Blogging on a Sunday? I know, crazy. Right? Not entirely, Neely and Ashley have this fun link-up called Sunday Social and each week I say I'm going to join in and then never get my post up in time. Looks like it was a productive week for me because here I am, my first ever Sunday Social.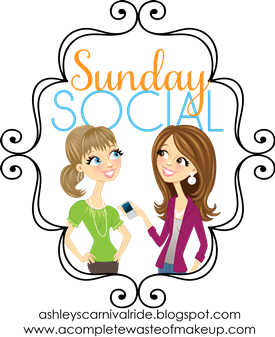 Favorite tv show of the past? 
There are a few I miss but the one I would trade all other television shows I love for? Without a doubt? FRIENDS!! 
I was once obsessed with The O.C., I have the box set and I re-watched all of the episodes while I was pregnant with Braylen, I loved it just as much as I did in high school. 
And of course, Dawson's Creek. Katie Holmes at her best.
Favorite tv show currently?
Hands down… 
And I've been a long time lover of Weeds, I know, shocking. This is the last season and I sort of think it's time for the end. I'm a fan of Grey's Anatomy, 90210 and Gossip Girl too.

Which reality show would you NEVER do?
Survivor. Does that show still come on? Being in a jungle or the woods or whichever "middle of nowhere" they chose for you doesn't appeal to me in any way. Not for any amount of money. I would never make it and I think they even eat bugs sometimes. Eww. 
Which reality show would you LOVE to do?
I would like to propose a REAL HOUSEWIVES television show. I can think of some of my favorite bloggers who would be great in this role. I love the RH series because they're funny and crazy but seriously, can you relate to any one of them? I hope you're listening Bravo because I think I have something going here.
But if I have to pick a show that's real it would be The Amazing Race. And I know, I know they get in situations outdoors that I don't want to be in, like riding bicycles for long distances and such. I keep thinking that at least Allen would be with me and I think we could make it together. 
TV character that you feel is most like you? 
I've always thought I have a little Monica Geller in me. I'm a huge fan of cleanliness, possibly a little too OCD and I love food.  I think we have a sense of humor that is similar and a little punch of sarcasm at just the right times.